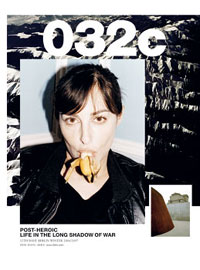 Die 12. Ausgabe des Berliner Magazins 032c zum Thema Post-Heroic: Life In The Long Shadow Of War ist da.
Mit Beiträgen von:
Jens Balzer, Jodie Barnes, Fabien Baron, Joachim Bessing, Marc Brandenburg, Jonathon Cooke, Roger Deckker, Todd Eberle, Alexander Gorkow, Oliver Helbig, David Hughes, Eva Karcher, Kirby Koh, Rem Koolhaas, Andrian Kreye, Detlef Kuhlbrodt, Niklas Maak, Geoff Manaugh, Joe McKenna, Alasdair McLellan, Hans Ulrich Obrist, Ulf Poschardt, Sebastian Preuss, Thomas Pynchon, Sharmadean Reid, Fulvio Roiter,Tamara Rothstein, Tobias Ruether, Heji Shin, Brian J. Sholis, Valerie Stahl, Juergen Teller, Inez van Lamsweerde & Vinoodh Matadin, Paul Wetherell, Jordan Wolfson.
Interviews mit Herfried Muenkler, Graydon Carter, Bidoun, Amira Casar, Richard Hamilton und Jeff Vandermeer.