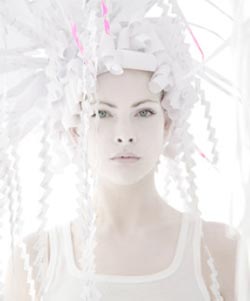 Vom 3. – 17. April '09 zeigt die Galerie artMbassy das "Best of" des Fashion Photography Contest on Hair New to the Eye der Haarkosmetikmarke Sebastian Professional.
Unter den etwa 50 Exponaten findet sich auch das oben abgebildete der Berliner Künstlerin Kerstin zu Pan. Ein weiterer Beitrag stammt von einer Studentengruppe um Benedict Hellwig von der design akademie berlin.
Ort:
artMbassy
Anna-Louisa-Karsch-Str. 7
10178 Berlin-Mitte
Öffnungszeiten:
Di – So, 12 – 19 Uhr
Eintritt frei.