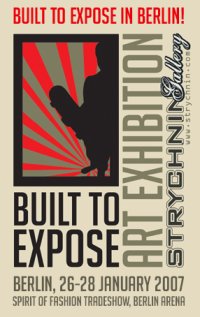 Die Strychnin Gallery präsentiert in der Ausstellung Built To Expose vom 26.-28 Januar mehr als 60 Skateboards auf der ModeFACHmesse Spirit of Fashion.
Aus der Ankündigung:
"A travelling art exhibition of more than 60 skateboards made by over 50 of the best artists from belgium and the netherlands. Tattoo artists, painters, musicians, graphic designers, cartoonists, skateboarders, etc, etc. 60 totally different expressions of underground art that all started out from the same shape, the shape of a skateboard. After Amsterdam (Art Beat at the Post CS building, the Cantine, the Jam), Huizen (Huizer museum), Antwerp (club Petrol, Fish 'n Chips) the exhibition will now be going to Berlin! Several german artists will be making new additions to the exhibition for the Berlin show."
!!! Hier !!! klicken wer's auf Deutsch mag.