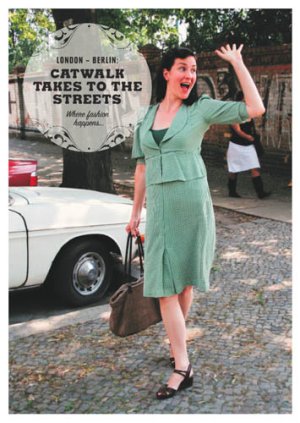 Die Street Fashion-Blogs TheStyleScout und StilinBerlin stellen Ihre Arbeiten unter dem Titel Catwalk takes to the Streets vom 20. April bis 08.Mai 2007 im Showroom von Create Berlin aus.
StilinBerlin dokumentiert den Berliner Street Style. Inspiriert wurde das Projekt durch ähnliche Blogs in Städten wie Paris, London, Helsinki und New York, sowie der japanischen "Fruits-Serie". StilinBerlin holt sich nicht nur den Hipster aus Mitte ( mit den SkinnyJeans und riesiger Sonnenbrille) vor's Objektiv, sondern will unterschiedliche Stile, die sich aus High Fashion, Vintage und H&M ergeben, festhalten.
Die Show, die zusammen mit der Agentur No.mad produziert wird, ist als Multimedia-Ausstellung geplant, kombiniert werden Fotografien und Video-Interviews.
Zusätzlich wird auch ein Blogger-Treffen organisiert, bei dem Video-Interviews mit deutschen Bloggern und Mode-Fans aufgezeichnet werden.
Ort: Create Berlin Showroom, Postfuhramt Berlin, Oranienburger Str. 35-36 – Auguststr. 5a, 10117 Berlin-Mitte
Öffnungszeiten: 20.04. – 08.05., Montags bis Freitags 11 bis 18 Uhr