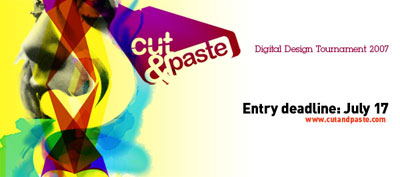 Am 27. Oktober macht das von Adobe gesponsorte Cut&Paste Digital Design Tournament auf seiner weltweiten Reise in Berlin halt.
Die Deadline für die Teilnahme ist der 17. Juli. Im Herbst werden dann die acht auserwählten Computergrafik-Freaks "come to battle with a tech-heavy arsenal".
Der agenturblog bietet !!! hier !!! noch weitergehende Infos.
Zeit: 27. Oktober 07, Einlass 20Uhr, Beginn 21 Uhr
Ort: Palais in der Kulturbrauerei, Schönhauser Allee 36, 10435 Berlin
Eintritt: 8€ Vorverkauf, 10€ Abendkasse