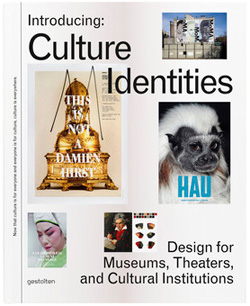 Unter dem Titel Designing Culture Identities sind die Grafikdesigner Ludovic Balland und Johannes Erler am 21. Februar 2013 zu Gast im Gestalten Space.
Zur Veröffentlichung des Buches "Introducing: Culture Identities: Designs for Museums, Theaters, and Cultural Institutions" werden die beiden Gäste über ihre gestalterische Arbeit für internationale Kulturinstitutionen wie das Museum für moderne Kunst in Warschau, das Theater Basel, das Staatsschauspiel Dresden und das Theater Bremen sprechen und Einblick geben, wie sie mit Originalität die Grenzen üblicher Werbekommunikation im Kulturbereich überschreiten.
In der englischsprachigen Ankündigung heißt es darüber hinaus: "The visual communication of museums, theaters, and other cultural institutions is no less pioneering. Today, cultural institutions are breaking new ground where art meets logos, culture meets commerce, and design meets curation. In fact, one would be hard pressed to find another area of graphic design in which the work is so fresh and experimental and so often serves as a precursor for future visual trends."
Die Veranstaltung wird auf Deutsch stattfinden. Eintritt frei.
Zeit:
21.2.2013, 19 Uhr
Ort:
Gestalten Space
Sophie-Gips-Höfe
Sophienstraße 21
10178 Berlin