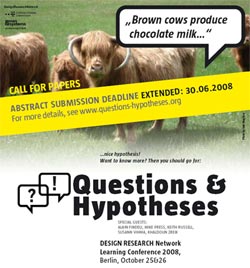 Hier eine der wenigen Gelegenheiten für universitäre Designforscher ihr Wissen in Berlin darzubieten: die Design Research Learning Conference Questions & Hypotheses hat ihren Call for Papers bis zum 30.6.'08 verlängert.
Die Konferenz wird am 25. und 26.10.'08 in der Kulturbrauerei stattfinden. Einen guten Überblick über das Was, Wie, Wer gibt das DesignResearchNetwork.
Als Special Guests sind angekündigt: der in Dundee/Schottland lehrende Design Against Crime-Aktivist Mike Press, der in Montreal lehrende Alain Findeli, der australische Designtheoretiker Keith Russell , die in Helsinki lehrende Autorin der fundierten Studie "Products as Representations" Susann Vihma und der in Paris lehrende Mitherausgeber des "International Journal of Design Science and Technology" Khaldoun Zreik.