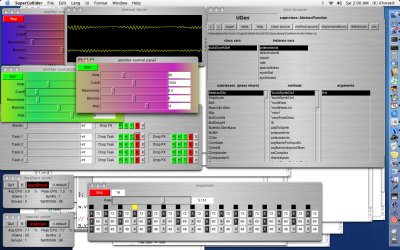 Fredrik Olofsson schreibt mit Euch und der Software SuperCollider am Samstag, den 10. März klingende Algorythmen.
Fredrik Olofsson zum Workshop: "SuperCollider is a free software, object oriented, real-time audio synthesis programming language that runs efficiently across multiple platforms. This means that it is one killer app and among one of the hottest things you can have installed on your computer. In this workshop I will do my best to share my enthusiasm for this live coding environment. We will get creative with algorithms and sound in a very hands-on manner.
Auch Anfänger dürfen sich trauen.
Unbedingt mitbringen: Laptop, installiertes SuperCollider, Lautsprecher, 10 Euro
Ort: pickledfeet, Linienstrasse 54, Berlin 10119
Zeit: 10.03.07, 14 Uhr