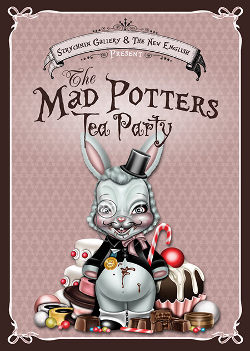 Die Strychnin Gallery und THE NEW ENGLISH präsentieren vom 4. Februar bis 6. März 2011 in der Ausstellung The Mad Potters Tea Party Porzellan der "wunderlichen" Art.
Über 100 internationale Künstler kreierten eine von Alice im Wunderland inspirierte Themenwelt. Das Dekorieren mit künstlerisch verzierten Porzellantellern existiert bereits seit 700 Jahren und ist für viele von uns eher mit dem Geschmack unserer Eltern oder Großeltern verbunden. THE NEW ENGLISH möchte diese Art der Kunst mit einer coolen jungen Porzellanproduktion wiederbeleben. Es wird sowohl Einzelstücke (Teekannen, Tassen und Teller) geben, wie auch Werke limitierter Editionen.
Mit dabei sind:
Ray Caesar, Chris Mars, KRK Ryden, Nathan Jurevicius, Brandon Maldonado, Matt Haber, Caitlin Hackett, David Stein, Seymour, Lola, Nanami Cowdroy, Oksana Badrak, David Stoupakis, Camilla d'Errico, Kristen Ferrell, Mimi S., Chris Von Steiner, Bethany Marchman, Jason Jacenko, Daniel van Nes, David Hochbaum, Lori Field, Sophie Bastien, Francois Escalmel, Christian Rothenhagen, Annie Bertram, Jon Jaylo, Wee Flowers, Elmer Presslee, Monique Ligon, Bird Reynolds, Marmite Sue, Saturno Buttò, Martina Secondo Russo, Ver Mar, Rose Hardy, Dirk Larsen, Scott Holloway, Edith Lebeau, Brian Horton, Skeleton Heart, Maxim, Pete Folwer, Vlad Quigley, Peter Ting, Catherine Jahan, DBO, Famous When Dead, Chrissy Angliker, Betsy Walton, Juka Araikawa, Camila Prada.
Ort:
Strychnin Gallery
Boxhagener Straße 36
10245 Berlin
Zeit:
Vernissage am 4. Februar ab 19 Uhr
Do ‐ So, 12‐18 Uhr