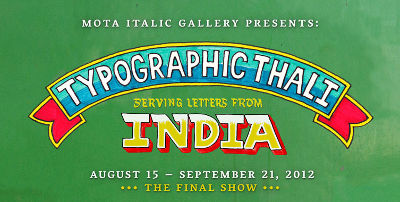 Die Mota Italic Gallery zeigt noch bis zum 21. September 2013 in der Ausstellung Typographic Thali – Serving Letters from India die farbenfrohe Vielfalt der indischen Typografie.
In der englischen Ankündigung heißt es hierzu: "Thali is the Hindi word for plate. In its normal context, a thali is often a large sampling platter, serving multiple curries, veggies, and dips. This exhibition highlights the diversity of Indian typography and writing systems by showcasing hundreds of images, objects, toys, books, newspapers, posters, etc. collected in India. The installation promises to be visually stunning and more crowded than a Mumbai train, as well as educational and inspiring, too."
Die Ausstellung ist die letzte am Standort Prenzlauer Berg. Wir dürfen gespannt sein, wo es weitergeht.
Zeit:
Mo bis Sa: 12 – 18 Uhr
So geschlossen
Ort:
Mota Italic
Schliemannstraße 34
10437 Berlin